I have just published my latest book on Kindle, entitled Not Your Fault. It's a collection of 50 inspirations to help teenagers cope with divorcing parents.

There seems to be a growing trend of sharing inspirational quotes all over social media, so I decided that getting a good collection of them together would make a popular book!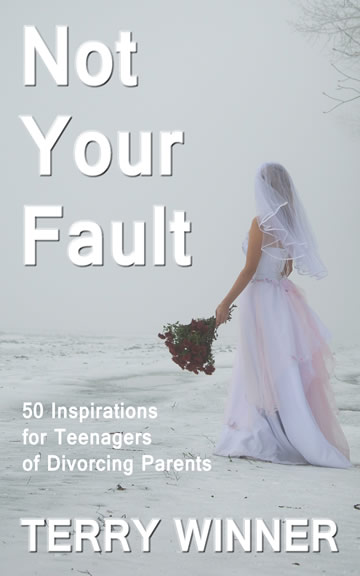 Click to View at Amazon
The selling point is that it's not just a book with clever quotes and phrases meant to inspire. Each inspiring phrase is underpinned with an accompanying description and explanation of the quote.

This has resulted in a book that you can actually read and get something positive from into the bargain.

You can buy it for a low introductory price at Amazon by clicking the image of the book cover to visit the sales page.

If you are curious, the author "Terry Winner" is a pen name I use.
What Help do Teenagers Need?
If you're wondering about what help a teenager may need if their parents are divorcing, the simple answer is plenty!

Teenagers are still at a point in life where they are developing physically and mentally. Having been through the same experience myself when I was a teen, I can say with some authority that the primary feelings are of being alone, abandoned, powerless and unloved.

Add to that horrible array of negative emotions the feeling of guilt because you think it is somehow your fault they are breaking up and you have a very depressing scenario to deal with.

Hence my book. It provides helpful and empowering sayings that attempt to steer the sufferer away from depression and anger toward feeling that it's not their fault and they shouldn't feel guilty about it.

It also gives lots of support and, what a person it that situation needs more than anything, hope.

It's not a long book, coming in at just 111 pages, so even today's attention-challenged teens will feel comfortable reading it. There's a lot of good uplifting information crammed into those few pages and it won't take too long to read the whole thing from cover to cover.
Plans for the Future
At the moment, it's only available in Kindle format as a digital download. That means I can keep the price low and get an idea of how popular it is likely to become.

The next phase will be to publish it in the physical world as a paperback, although that will mean a price increase to cover the cost of printing and distribution. Be sure to keep an eye on my Amazon sales page for developments in that direction.

For now, if you are a teenager in this situation, I hope you grab a copy of the ebook, enjoy reading it and get something positive from it. If you're an adult that, like me, has been though that experience in the past, you might also want to grab a copy of the book to find out how it can help you to move forward in your own life.

Whatever your reasons for wanting to read this book, I wish you an enjoyable read and a positive takeaway from it and I thank you so much for getting it!

Terry


This article was originally posted on: Mar 13, 2023

(BACK TO TOP)
Comments
There are 0 comments on this post: